Businesses
The Green Room Cabaret
Nestled high in the heart of downtown, The 'Green Room,' whose name is a rather tired pun, (attributed to both its theatrical setting, and signature drink of absinthe) is a 220 capacity, nearly century-old theatre that had not seen much action since the Prohibition Era. It's speakeasy-style layout provides a quiet and classy (though affordable) evening venue. Catering to an older crowd, the Green Room makes for a unique entertainment experience, with facilities provided for full-length productions in addition to a full-service bar. The Green Room is ramping up for its upcoming season, and auditions are set to begin, soon!
Venue Owned By: Leo Zimmer
Everdark Entertainment
Everdark Entertainment is now offering male and female escorts for whatever your needs may be. More information pending. Please contact Dahlia or Eleanor to make arrangements.
Venue Managed By: Dahlia Butler and Eleanor Mayhew
Sunset Taxi
"Anywhere from dusk till dawn" - Controled by one of the Camarilla Clans. It is one of the major companies that cater to the transport needs of Kindred and Kine alike. It works 24h to provide it's clients with affordable, comfartable and fast means of transportation. Sunset hires mostly kine but there are a few kindred working night shift. The Company will recriut any kindered or kine with a driver's license. If your looking for work visit one of our garages. Otherwise call 555-343-003 we'll get you anywhere from dusk till dawn.
Company owned by: a Camarilla Clan
Company manged by: unknown
Notable kindred employees:
Lucian Bratovitch-acting manager
Andrei Yousopov - taxi driver
Notable kine employees:
Ethan Adams - taxi driver
Cortez BioTech
A biotech research company focused on finding cures for rare blood diseases and improving methods of producing clone blood for transfusions. The company was founded in the mid 60s by Lucien Cortez and more than 50 years later he is still the CEO and general manager. Ever since his embrace more than 20 years ago, Mr Cortez has put the companies assets, resources and products at the disposal of the Camarilla.
Cortez Biotech HQ is a large steel and glass tower in the heart of the cities CBD and Mr Cortez himself resides in a high security penthouse on its topmost floor, where he can always keep a close eye on his company and its activities.
The company's motto is "Making People Better"
Notable Kindred Employees:
Lucien Cortez - CEO
Notable Kine Employees:
Marian Conley - Head of Security
Sarah Hopkirk - Personal Assistant to Mr Cortez
Channel 5 -"News that Matters"
»» Link to episode 1 ««
Channel 5 is the city's dominant television news network. It is thoroughly under the control of the Camarilla, who use it to protect the Masquerade. Though Channel 5 is occasionally influenced by Kindred politics, the network presents surprisingly unbiased coverage of local affairs.
Company owned by: Benjamin Burg, a mortal CEO and pawn of the Camarilla.
Company manged by: Alexander Kennedy
Fitzpatrick Rail
A subsidiary of Fitzpatrick Shipping. A publicly traded company providing continent wide transportation for all kind of freight into and out of the city. The rail infrastructure of New Sarum is antiquated but still in heavy use and for the more more discerning customer we offer a private rail car service for freight deliveries and a guarantee of no interference from the authorities. Our secure and completely light proof carriages also provide a safe way for Kindred to enter and exit the city.
Fitzpatrick Rail's offices are located at the rail yard and open 9 to 6 weekdays. Night time and weekend appointments by request. Ask to speak to Mr Edmund Flagg.
Company owned by: Edward 'Teddy' Fitzpatrick
Company managed by: Edmund Flagg
Taste of Heaven
Upscale restaurant with a heavy Italian theme that started life as an theme bar. However with an influx of capital, a small army of celebrities and some very generous reviews in the local press the place because a highly desirable destination for a welcome evening including stylish entertainment including jazz era inspired live acts. It also has a VIP room above that for a sizable fee can be hired for private gatherings that according to rumors is 100% sound proofed and used by certain well known local sportsmen for sleazy activities.
Company owned by: Sebastian Kelp
The Steel Mill
A large disused warehouse in the rotting heart of the industrial zone of New Sarum. Live pyrotechnics flank the heavy metal doors that is guarded by bouncers that are unashamedly just local bikers. Even outside the sizable car park filled with motorcycles and beat up muscle cars the sounds of heavy industrial metal can be heard booming into the night. It is a towering monolith of wore bricks and black painted windows that is labelled by neon lights surrounded by constantly moving giant gears. Inside the club is one massive room that can easily be filled with huge crowds on the dance floor (which has shower like ties and grates help water down any blood the dancers leave behind) and a huge collection of dark and shady booths and tables. The lack of VIP treatment means it doesn't attract big money but the live garage bands mixed with cheap alcohol means its not yet "sold-out" and attract steady stream of bikers, goths and metal heads.
Company owned by: Sebastian Kelp
Fitzpatrick trucking terminal
A subsidiary of Fitzpatrick Shipping. A publicly traded company providing continent wide transportation for all kind of freight into and out of the city many trucks enter and leave this terminal every day
Company owned by: Edward 'Teddy' Fitzpatrick
Lazarus Antiques
Proprietors: Mr and Mrs Hunter, of Clan Malkavian
An exclusive antiques shop, appointments taken dusk to dawn, arrival without appointment not recommended. Acquisitions conducted for all manner of antiques, large or small, ancient or relatively modern. Specialising in religious and medieval items. Payment always taken on delivery. The shop is open 9-5 Monday to Friday with unaware kine staff.
Private appraisals and valuations conducted by appointment only.
The New Sarum Evening Standard
The Evening Standard is New Sarum's longest continually running print newspaper. Located in the Historic District in the same building which has housed the paper's offices since its first printing in 1876, the Evening Standard has recently branched out onto the internet and social media. Although not everyone is pleased with the change, Elizabeth Procter, the Editor in Chief has gone on record as saying "Print may not be dead yet, but it's fighting a losing battle, and the Evening Standard is going to have to evolve so that we can continue bringing our readers the quality journalism they have always expected from such a fine institution."
Apex News Corp, which purchased the Standard just before the austere paper "folded" under the weight of digital media and new trends in journalism, is famous for buying small news outlets and turning them into local arms of its worldwide conglomeration. So far, the perceived bias and shady business practices have been exempt from the Standard's typically accurate and timely reporting; but critics of the Pentex subsidiary are skeptical about how long the Standard can hold out.
Overnight/ Breaking News Editor: Charles U. Farley
One-Eyed Dog Used and Rare Bookstore
Specializing in used and rare books, One-Eyed Dog is the primary shop for Kindred looking for reading material, as we are open from Dusk until Dawn. We buy used books in readable condition, and rare or out of print books, with preference toward books in new, or like new conditions and rare editions. We aim to meet all your needs; if you are looking for a recently published book we don't have in stock, ask our friendly manager to order it for you. Looking for a rare first edition, or obscure out-of-print book? We have contacts in the antique business who can locate a copy upon request. Our newly remodeled interior includes a cafe with Wi-Fi internet and ample seating.
Buisness Owned by: Jacob Crowley
Notable Kindred Employees: Ana Remington
Starlight Delivery
Bicycle delivery service, serving the heart of New Sarum for reasonable rates. Special deliveries and out of area deliveries extra. We cannot deliver out of New Sarum and suggest things going so far use our friends at Sunset Taxi for long distance and large, heavy parcels.
Owned and operated by Soggy.
Soggy's Bike Shop
Small hole in the wall bicycle repair shop on 3rd near Harthwood Blvd (streets made up on the spot). Full service bike shop with two of New Sarum's very best bicycle mechanics and service available at all hours for your cycle repair needs. Also a small stock of used and new bikes and accessories. Freds welcome.
Moon River Café
'Where the day ends, the evening begins'
A one of a kind coffee house, opens when the moon rises, musicians are welcome to play jam sessions, there is a nice financial motivation for best performance, and drinks for all the performers.Good rugs and shabby walls, candle light tables and a chaotic painted cheerful bar, serving from caffeine to clean tequila. Its not the classiest place in town, but the mood is jolly top, and many national celebrities started here, many still wait hoping they would be picked up by a talent agent.The owner is known to kine as, midnight Vik, a talent agent whit influence, to kindread, a Toreador loyal to the camarilla, but very uninterested in kindred society and politics.
Owner Viktor Vlademirow.
Dead Beat Radio
Dead Beat Radio, station brings you the finest from yesterday, past year or century!
You may past awey, but quality music will newer die!
Is the neighbour kid keeping you awake at night with that, what's it called, dumbSTEP?
Fire up the speakers on 616 FM, and blow his fucking house down !
Bigest shareholder: Viktor Vlademirow.
Dead Body Disposal
Not the name of an edgy nightclub or some other establishment, but just that - the disposal of dead bodies. Accidents happen, maybe you got careless while feeding or were noticed in a borderline Masquerade-breaching scenario and need a witness taken care of? It's not pretty, not for the faint of heart, and it definitely doesn't smell good, but for a few hundred $$$ you will have at least one less problem to deal with at the end of the night - just contact Frank "Whirlwind" Ford 1-555-DEAD-BDSP!
Fidelis Vitam Pharmaceutical Company
This rather tall building is found in the outskirts of the city, behind a barbed wire fence, two security checkouts and a several 360º cameras. This new pharmaceutical company is in charge of producing most of the day-to-day pills that the humans in the city needs to go on but it's slowly stretching his control over other interest in the city like chemical research and biological research.The company motto for publicity is "Your life is our daily concern" but if your are invited to the tops floors there is another motto carved in the well in front of the C.E.O Office "Obedience Breeds Discipline, Discipline Breeds Unity, Unity Breeds Power, Power is Life".
Company C.E.O: Yevgeny Vladislav Ivanov
Kindred employees: Nathaniel Saint, Benedict Cobb, Gregory Marcus
Kine employees: Gwenedd Weir (Mister Ivanov Personal Secretary)
The Wizard of Taxes
Out of a small midtown office is the city's leading CPA, knowledgeable on all financial ramifications of business dealings. The building stands within the center of downtown, twenty-one stories, with Mr. Rothstein's office upon the twentieth.
Office Hours: 9AM - 3PM & 10PM - Midnight Monday through Friday.
Company CEO: Oz Rothstein
Spider's Web - Yarn Arts Store
A wool store, squeezed between two other businesses on Main st, with a lacy web hung in the front window. Selling specialty wool and tools during the day. Classes on weekends, in the basement, if enough people sign up, shelves filled with wool go almost to the 12' ceiling with nothing left of the interior walls on the main floor but wall supports and rack after rack of different colors, textures and species of natural wool and cotton fiber. "If you want synthetic, plastic, acrylic or cheap yarn go to the strip mall" Closed thursdays (her day off) and the meeting day of the Kine owner's social circle to work on their current projects among like-minded friends, calling themselves the "New Sarum Mothers." (plus one grandmother), usually meeting late afternoons and into the night. Open most of the daytime Monday to Saturday (ex thursdays) never before noon on Sundays. A sign in the window offers handmade knit or crochet products, with a lace specialty, "Prices Negotiable, but if you have to ask it's not enough" One of the first stores in New Sarum to stock in environmentally friendly, sustainable, bamboo knitting needles and crochet hooks. Despite shortages and lost packages, "They are in stock again!" Bamboo grows so fast and is strong enough that it can be priced better than anything manufactured out of metal or plastic. "This store is green"
Proprietor/Owner/Manager is a Kine named Matilda Weir, aided by a few part-time Kine to fill the schedule
Outrunners Garage and Chop Shop
Owned and operated by [http://livingwod.wikidot.com/char-notes:aidan-brennan] Outrunners is the front for his less than legitimate businesses as well as great place to find any brand of vehicle you desire, if someone's driving it we can find it! as well as that you can get any motorized vehicle pumped up to its full potential as long as you don't ask where the parts came from.
With storage space for up to 20 vehicles the old warehouse on the edge of the Slums is an almost derelict building until you try get in and notice that all the doors are well locked and all the windows shuttered.
Opening Hours 12;00- Very Late. Aided by Kine for daylight hours.
Deep Nightclub
A rather out of the way nightclub catering to New Sarum's more sexually liberated demographic. Deep possesses the appeal of both a quintessential lounge and high-energy nightclub. The club advertises an intimate space to escape, the dance vibe to unwind, and an impressive cocktail menu to release you from all your inhibitions. On the interior, the club patrons a colourful crowd of individuals from all backgrounds and walks of life.
Giome LaFortier (the Redcap) works here imitating a kine bartender.
The Powder Room
Miss Phoebe's former haven is available for private museum showings. The Powder Room is a museum of torturous machinations presented for historical and hobbyist interests. View the Iron Maiden and the Judas Cradle. Take a rest in the Brodequin or the iron bull. Marvel at the Strappado, the Breast Ripper, and the Skull Crusher. Chinese water torture available by request, free toy flog with purchase. The museum is open to the public by appointment only. You may contact the curator (Dahlia Butler) by post or personal introductions only. (All torture devices are shielded by glass and are only available for use as advertised).
Shelf Indulgence Books
Shelf Indulgence Books is an all-hour bookstore found in the center of the Chinatown markets run by a lovely and welcoming married couple. It sells books ranging from tourist guides to history volumes in a variety of languages. Imported books from all over the world are available by special order. The store is also a meeting point for Kindred looking to speak with Lysander Eudocia, the one who holds domain over Chinatown.
The Crimson Chalice
A 'Vampyre' bar of good standing and some minor fame on the national scale as a sort of 'A home away from the Vampyre capital of the world'. It has within nearly 30 years of its existence expanded and brings in a numerous amount of tourists each year, from regular people who wish to see the Vampyre's from the various types of people who believe themselves to be creatures of the night to varying degrees, and those who simply wish to get away and see the latest band playing. It is accommodating to all, the bar front is well stocked with the finest of spirits, the kitchen produces an elegant and themed menu of appetizers and dinners. The dance floor and stage hosts a number of different events, from live bands to dj's and a once a month 'Ball Room Dance' theme to revel in the splendor of the old days, the establishment is never without music to fill ones nightly existence with passion. The VIP section of the Bar is quite unique. Soundproofed rooms with no electronics of any kind, using gas lamps for lighting, it is the perfect replica of a Victorian Era drawing room, with a fully stocked liquor cabinet. It is advertised as a place 'For old souls to escape the rush of the modern age.' Be you Mortal, Vampyre, or one who is discovering their own Vampyre heritage in your veins, the Crimson Chalice welcomes you from sundown to an hour before sunrise.
The Blue Oyster Bar
This quite posh restaurant and bar is famous for his seafood specials. It's decorated in the way of the pre war berlin cabarets; You can see quite the collection of fine liqueur bottles behind the bar counter and a, almost always full, little group of tables.
The Blue Oyster Bar is open to almost all Kine and Kindred, except for Anarchs and Nosferatus. There is a special area for V.I.P members behind a guarded door; to enter there you will need a password. This area is specially designed for Kindred, it has soundproof walls, individual boots made of shaded glass and offers a escort service for feeding purpose.
Bar Owner: Yevgeny Ivanov
Notable Kindred employee:
Kine employee:
Open hours: Restaurant: Monday to Sunday from 17:00 pm to 4:00 am
Bar: Saturday and Sunday 12:00 pm to 4:00 am
** The Society Of York**
This place is owned by Raz Nox. To enter his private quarters you will need to ask audience whit him.The society of york is the newest Gentleman club in the city. This structural wonder is on the outside made out of chiseled stone walls but in the inside is supported by mahogany wood beams and columns. Brilliant wooden floors and fine marble columns holds the structural integrity of the place in the reunion quarters.This club counts whit a state of the art modern kitchen and cellar, an inner pool whit floors of pure alabaster, a greek steam room, a quite complete library, a meeting room whit a private closed circuit and a luxurious greenhouse.
Raz's Quarters are completly made out of Mahogany wood and marble. You can find there his personal library, a little bar set for this vampire strange tastes, some auxiliary furniture (a desk, a few drawers,a wardrobe,a bed and 4 huge fish tanks).There are 3 more doors in the insides of the York society. One is red, One is Blue and the other white. Where they lead? Only Raz knows.
Opened to: Kine and Kindred whit a membership (or if they are staff)
Owner: Raz Nox
Staff: (this is the only way that womans are accepted inside, or by express order of Ivanov)
Notable kine employees:
Notable Kine members:
Notable Kindred employees:
Notable Kindred members:
Horne Jewelers
A two tiered jewelry store with an above ground floor that holds the jewelry for sale that is all made just below the store in the below ground floor. The store is relatively well known for it's longevity in the city as a family business and for offering custom works of jewelry at only a slightly raised price than the components and work put into them. The below ground floor is sectioned into two parts the offices which are accessible for customers wishing for custom jewelry made for them and the construction of these pieces of artwork are made in the other half of the underground floor.
Hours of Operation: 9:00am - 10:00pm for Weekdays
10:00am - 11:00pm Weekends
Notable Kindred Employees:
Alan Horne- Owner and Jewelry Maker
Notable Kine Employees:
Hearthstone
Hearthstone believes that wellness is a process not a procedure. Our spa engages the best products and the finest artisans in creating services that nurture you closer to your fullest potential. Our techniques are time-tested and traditional, yet keep in mind the most up to date advances in natural products innovation. We know that lasting change can take time, but once achieved, can have greater sustainability than quick fixes. The feedback we get from our best clients is that Hearthstone "meets them where they are," with no judgments, no criticism, and no standard to meet other than their own. We are proud to see our intentions recognized, and are confident that our natural, noninvasive and preventative approach to wellness is the safest and most enduring partnership you can choose.
Our Hearthstone is first spa in the United States to achieve Platinum LEED certification by the U.S. Green Building Council. Aside from the impressive environmental accolades, Hearthstone offers a range of other new features. Shoppers will find a larger selection of clothing and jewelry as well as expanded spa lines, including massage tools and locally made body care products.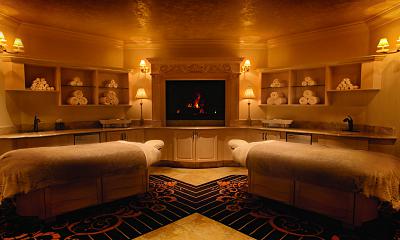 Venue Owned By: Edwin Jett
The Archive
The Archive is a members only private library that offers a wide selection of books on almost every subject a kindred could ask for. Based in a renovated apartment complex this three story brick library has plenty of room for it's patrons. For a monthly members fee you will have access to our entire library including our computer lab, which is divided up into small private offices for privacy on whatever you may wish to research. Kindred looking particularly old tomes should ask for the owner Raz Nox or the head assistant librarian Deloris. Some of our older tomes are very fragile and can only be handled by staff in ensure the book's wellbeing. We are working however on scribing our older works to digital copies so they may be accessed more easily. In addition we offer private lessons to those kindred looking to expand their studies, proficiency with technology, and computers.
So please come by, pick up a member's card, and expand your horizons.
Owner- Raz Nox
Head assistant- Deloris Gillespie- Ghoul
Research assistant- Theresa Weaver- Ghoul
Service Solutions
This is a temp agency that specializes in the foodservices industry. They supply cooks, waiters, busboys, valet and doormen to a wide array of restaurants and hotels. They also are hired out to private parties. It is known that several highly trained ghouls are for hire for kindred how want to plan a closed party.
Owner: Alfred
S&P cleaning services.
A large cleaning company that provides office and room cleaning for bussineses around the city.
Owner: Alfred (OC Info)
Sterile Bee Private Clinic
A nice walk-in clinic ran by cheerful faced staff. Opened during the day as well as night.
Owner: Allen Stroff.
The New Sarum Armory
The Armory hosts three major purposes. The first is to stock pile and distribute as and when required military munitions and weaponry to the local garrisons.
The second is as a development and research area for munitions, with some testing being done on site and some being performed outside city limits.
The third purpose is now mostly redundant but has its beginning in the cold war and the Armory was developed as a strong hold and command post in the case of a Russian invasion during the cold car. Many a conspiracy theorist claims that the armory has one of the most extensive underground complexes in the city and has stock piles of food, water and fuel, sufficient to outlast a nuclear fallout.
In recent year the armory has defaulted mostly as a glorified store house, however a recent take over by Clan Tremere has begun to restart rumours and whispers among the kindred. Military development contracts have been secured and there has been talk of the armoury outputting specialised weaponry for discerning members of the kindred society, though this has never been substantiated.
Silenda Incantatem
Description Under Construction
St. Mark's Medical Center
Description Under Construction
Lupin Detective Agency
The Lupin Detective Agency, has stated an establishment as a family business for over 50 years with branches being located world wide and acts not only as a detective agency but also a consultant detective agency. While its bread and butter is standard investigations, it has a reputation amongst those in the know and the police as a place to turn to, when things don't necessarily added up. While never publicly admitted many a successful police officer have had their career kick started with the assistance of the Agency.
During times of high business, the agency is well known to turn down more mundane investigations in favour of the more fiendish, regardless of the pay. Both mortals and ghouls tend to assist in the business, with each employee acting as a share holder of the companies profits. The kindred Samir Givi appearing to all outward appearances to be a simple employee of the company, but is in fact a partner in the firm.
Owner: Samir Givi
The Lantern - Free Radio
This late night radio show run by the enigmatic DJ Tugg plays the hottest tunes from yester-year. It's known among kindred as a source of information regarding the goings on the city, with such matters being broadcasted as part of its popular show "Game of Pawns". Kindred and kine are welcome to pass forward information to the DJ or "assist with scripting" as often refers to it as, making it a good way to spread true and false information (though providers of the later are frowned upon). Callers are always welcome to call in a chat, though such a practice has found itself falling off of late.
Owner: DJ Tugg
Koenig Firearms and Rifle Repair Shop
The small, understated storefront shop is located a few blocks away from the infamous Open Casket and sits in neatly between a frozen yoghurt vendor and a bookshop. The shop is run by its owner Tybalt Koenig and it openes every other night at sundown. Tybalt himself can usually be found behind the counter or at his desk. He repairs, fixes and costumizes guns for a reasonable fee and he offers his Bodyguard services for those who are willing to pay a little more with one condition: He will never raise a hand against members of his family. He will gladly accept favors in lack of payment as well.
Owner: Tybalt Koenig
Bloodlust-Nightclub
Located in Downtown Sarum this successful nightclub has only been running since the 90's and has kept up to date with the local trends downstairs hosts a large bar and the latest sound equipment on the market however upstairs is the "VIP" floor where kindred of all walks of life can come and enjoy the atmosphere and drinks (if you don't know what we drink by now then don't come to my club) all of hight quality and large variety.
A membership or guest of member is required for entry membership can be filled out in the there but for time sake I suggest mail (membership is free). Anyone causing trouble will be asked to leave. Weapons are to be left in storage room to be returned upon departure
The second floor is quieter while still being able to hear the music and has its own bar, a balcony over the main club and separate private and quiet rooms
Owner: Walter Cromwell
Recent events:
-Now hiring new bar manager. previous stole and used blood in the 1st floor bathroom to scare customers by using it to write on the wall. P.S. Malkavians now no longer need apply
-We put those bouncers there for a reason do not try to force your way to the second level or hide weapons they are armed
-Due to recent developments we no longer sell "PHD Animal behavior blood" our supplies have gone into shall we say "liquidation"
-Stop asking me if I'm a Toreador because I own a nightclub, I'm a Ventrue FYI
The Dancing Bear
The dancing bear is a quaint restaurant and music hall located in a warehouse just off the wharf. We have a completely russian roma wait staff, and an "old country" feel unique from everywhere else in the city. If you like classical music, a warm fireplace, delicious vodka, and to sit in plush chairs surrounded by lovingly crafted wooden statuary, you should come to the Dancing Bear. We have live folk music every night played by a variety of expert folk musicians, so feel free to come down and wheel on our dance floor. The waitstaff are all fluent in russian and english, and are happy to take your order, try the borscht!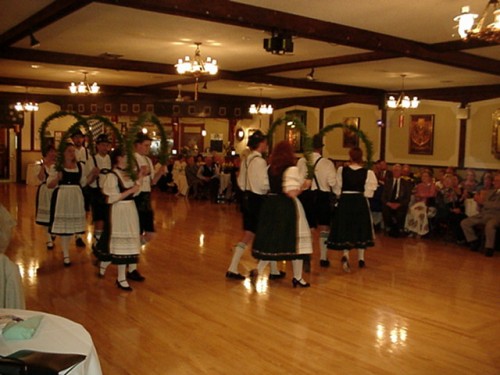 Seaton Butcher Shop
This mom and pop butcher shop is located in the south end of the New Sarem in the business district. The building was established in the late thirties after several failed restaurants and bars came and went. An immigrant with a dream and the skill was approached by an investor Tartino Cole to start a business and the two have been partners ever since. The two families have a civil relationship as the Coles have allowed the Seatons to operate the business without meddling and receive a profits check annually.
Carnegie Deli
This downtown shop has offered unique foods to the public for over a century bringing the tastes of the old world to your table. Owner operator Nickolus Shimmosa's family has overseen the day to day operation since the inception of the business and has many loyal customers.This small deli was purchased in a joint venture during the early nineteen hundreds (when the Shimmosa family ran on hard times) between Mr. Cole and Mr. Reed as a way to procure certain supplies. The shop is located in Little Italy in an old building that has various ways in and out.
The Cellar Bar
The Cellar bar located in downtown, is a popular spot among the local kindred of the city, it is owned and controlled by Thaddeus Morgan and is only open on particular nights, the bar is entirely for kindred and ghouls with mortals only being invited by Mr Morgan depending on his mood and to the city it is a registered private club and fully licensed establishment. The Cellar bar is one of the oldest establishments in the city having gone through various owners till mr morgan picked it up some 60 years ago.
After being destroyed by hon-tanly the bars latest incarnation boasts some top notch reinforcement and discreet yet extensive surveillance and security around it and the local alleyways and streets, the bar also lies ontop of the nosferatu Elysium.
Southern Winds Urban Exploration Store
This little store can is located downtown seven blocks away from the Cellar Bar and it's owned by Samuel "sammy" Saenz Valiente. This little shop offers the latest equipment for anyone who desires to start some urban exploration or parkour or any similar activity. It offers from maps to satchels, from snikers to special clothes, hooks and ropes and some other interesting things and in the future it migth expand and become a outdoor store. It has a back room where a pasword is nedeed to enter, that place is where exchanges of special pieces are made (mostly information. Ontop of it you can find a small three room apartment that's sammy new found heaven